The race for competitive advantage has not dimmed since the pandemic. Enterprise leaders view economic and business uncertainty as a given today. They are therefore looking for ways to balance the drive for more efficiency and productivity with support for innovation initiatives where appropriate. This push requires fundamentally new computing architectures to deliver. But as new Forrester data reveals, the management and securing of the data that populates these architectures remains a primary challenge.
This makes the case all the stronger for finding automated, intelligent ways to apply protection to that data, wherever it is in the organization.
The market is evolving
The Forrester Infrastructure Cloud Survey 2023 reveals the top technology and architecture delivery priorities for global cloud decision makers over the coming year. A majority (53%) point to the need to modernize with cloud and new computing architectures. This is an obvious first step given that cloud infrastructure is the foundation on which all digital transformation projects are built. A case in point: second on the priority list is "embracing modern app development techniques" (45%); but this too requires a cloud architecture to achieve.
So what's driving this push to the cloud? In a new webinar from comforte, Forrester VP and Principal Analyst, Noel Yuhanna, explains that for many organizations, it is the promise of driving value from analytics initiatives. Unlike transaction systems, which remain largely on-premises because of their complexity, analytics projects benefit from the scale and power of the cloud. Yet many organizations aren't able to extract the value they need because of the difficult of managing large data volumes and challenges around security and governance, Yuhanna argues.
Where security and data management meet
In fact, the Forrester Data and Analytics Survey 2022 backs this point. It reveals that the biggest challenges for data and analytics decision makers today in executing their vision are:
The maturity of technology around security (24%)

The maturity of data management technology (24%)
Security is a perennial top challenge for data decision makers. And it arguably gets even tougher in the cloud. But why is data management right up there, wonders Yuhanna? After all, organizations have been perfecting the discipline for decades. The answer is that cloud introduces extra opacity and complexity. Many organizations don't even know what they're storing in the cloud, he argues, citing another entry on the list: 18% of respondents claim "understanding the data" is their top data management challenge.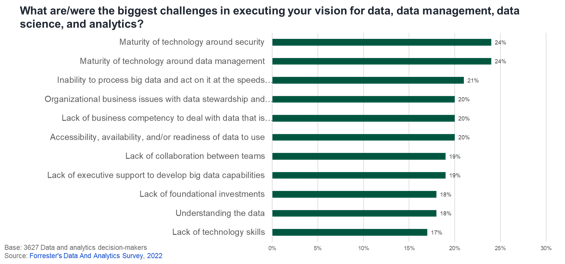 Multi- and hybrid cloud deployments can also unintentionally create silos, which interfere with business demands for real-time access, shareability and self-service, Yuhanna argues. This is both a data management challenge and a security one. So how can organizations meet increasingly rigorous compliance demands and protect reputation and the bottom line by minimizing breach risks in such dynamic and fluid data environments?
A vision of the future
The somewhat reassuring news is that no organization will likely ever have 100% control over their data. But they can implement solutions to make better informed decisions about what to secure and how to conform to local laws and regulations. How? By investing in tools that automatically discover and classify the data, wherever it resides. Automation is key here, argues Yuhanna, given the volumes of data involved.
The value that comforte delivers goes even further than this. Our Data Security Platform uses intelligent algorithm to find and classify all enterprise data, including that stored in disparate cloud systems. And then it offers customers a choice of protection methods for pseudonymization and anonymization, including techniques like tokenization which preserve the utility of data without compromising on security. That means it can be leveraged for analytics whilst keeping the corporate compliance team happy.
Yuhanna claims as much as 75% of enterprise data isn't used in analytics, due to governance roadblocks. So comforte not only minimizes compliance risk, but also supports projects designed to drive better informed, data-driven decision making. That's something every organization should be looking for as they join the race for competitive advantage.
---